TRAIL FIX!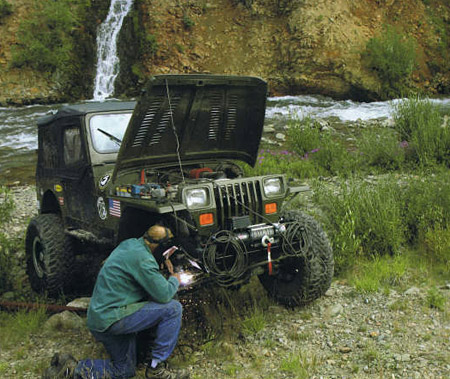 The Premier Power Welder on-board welding unit allows instant fixes on a remote trail, on the farm or on the construction site. The unit is a must for
4x4 travelers who like to get out on remote trail runs!
TWIN-TURBO WILLYS!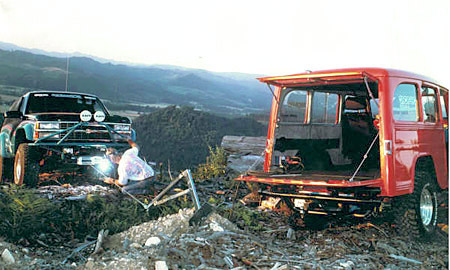 Some of you might remember this twin-turbocharged 1957 Willys Wagon that was Duane Elliott's project vehicle for Off-Road Magazine. A Premier Power Welder is mounted in the rear of this 750HP propane-powered beast!
ALL-FOR FUN WEEK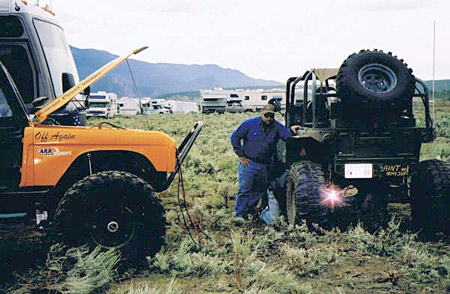 Welding a broken vehicle keeps the fun happening at the "All For Fun" 4x4 event in Colorado
TRAIL TOUR WELDING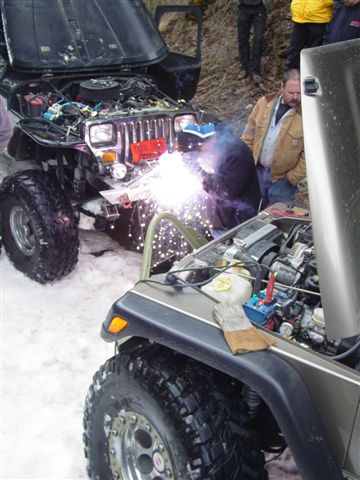 Premier Power Welder to the rescue!
CARNAGE CANYON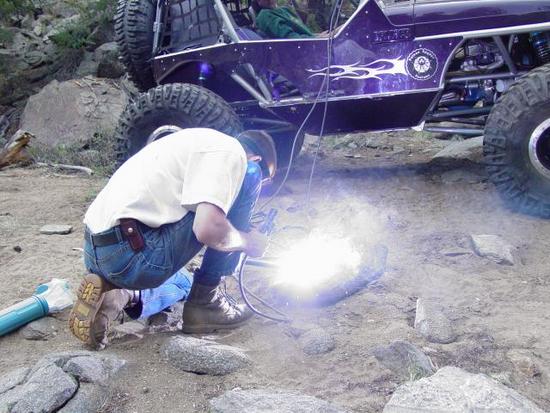 Welding in Carnage Canyon, Colorado. Yes, they call it "Carnage Canyon" for a reason!
HELDORADO TRAIL - MOAB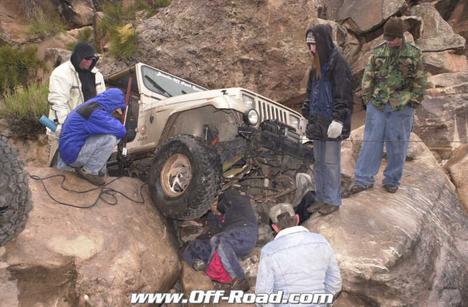 Moab, Utah, is know for its rugged metal-breaking rocks and trails. Here is a Premier Power Welder saving this Jeeps weeked dugin an on-the-trail fix.
SOUTH DAKOTA FIX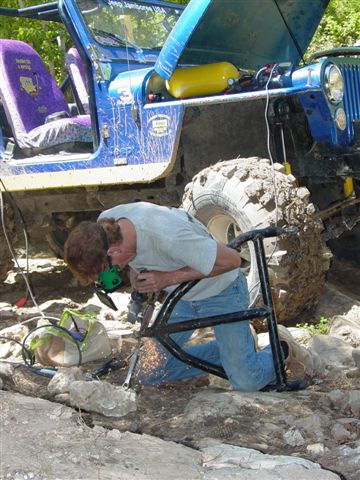 More than 50% of a good weld is preperation!
This Jeep eventually went on its way to finish the grueling trail.
MORE MOAB!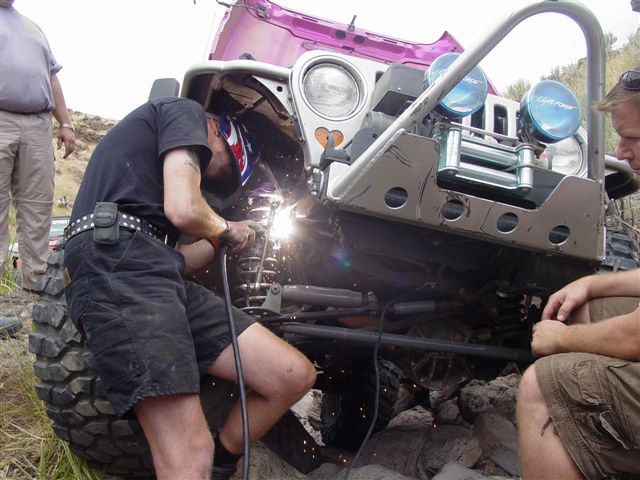 Another Moab, Utah, fix with the Premier Power Welder portable / on-board welding system.
KATHY CROOK WINS 1ST PLACE AT THE WOMEN'S NATIONAL ROCKCRAWLING CHAMPIONSHIPS!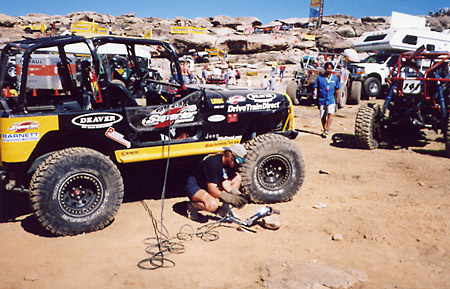 Undefeated Women's National 2007 Rock Crawling Champion (modified stock class) and female welder Kathy Crook, repairs her rig between events. Whether it's competition or trail riding, Kathy always has her Premier Power Welder handy.
Kathy Crook
Rock Car Racing
Modified Stock Class
2007 Women's National Champion - ProROCK and W.E. Rock
2007 ProROCK Champion Event #1 & #3
JEEP FIX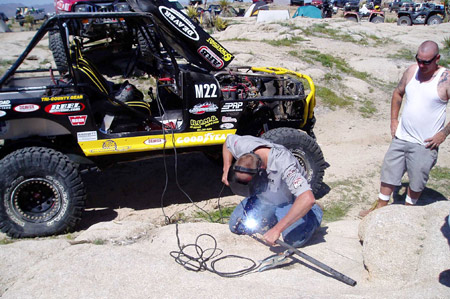 Having an on-board Premier Power Welder gave this competitor the ability to perform the repair to this broken tie rod at a national rock crawling event, which enabled them to finish the competition.
BROKEN RADIUS ARM ON WAR PATH 1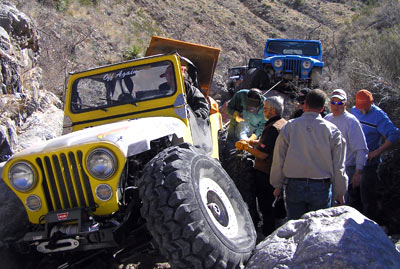 Nancy Bailey broke a radius arm on the trail called "War Path" in Caballo State Park, NM. Pat from Premier Power Welder repaired the break and our group was back on the trail again in no time!"
BROKEN RADIUS ARM ON WAR PATH 2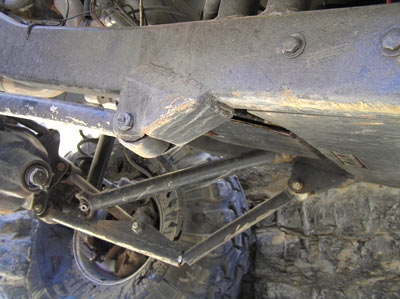 EVEN THE BEST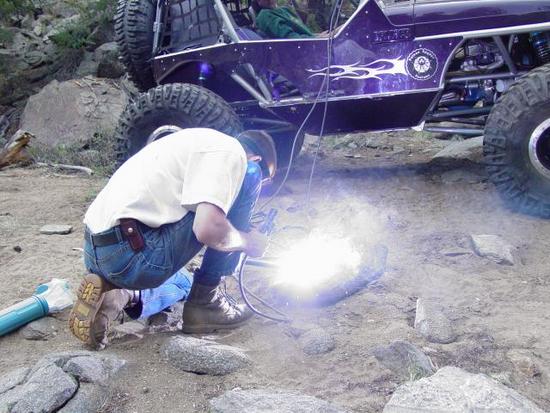 Even the best of them break sometimes! Walker Evans is shown here being welded by Ned Bacon and the "Killer Bee" in Johnson Valley, CA
GEAR HEAD!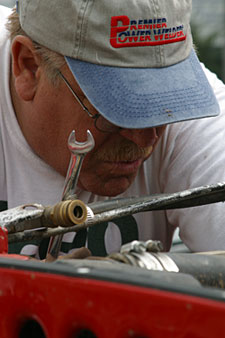 Randy Stockberger of Southern California, took time out Tuesday to repair his customized Jeep CJ, while the rest of his "All-4-Fun Week" participants headed to the hills. Approximately 700 people are in Gunnison this week for the four-wheel-drive rally, which is sponsored by the Mile-Hi Jeep Club of Denver. Stockberger's engine is outfitted with special parts that convert into a welder and an air compressor, because you never know what you might need when four-wheeling. "We never leave anybody behind," said Randy's wife, Roxann.
Photo by: Chris Dickey, Gunnison Country Times newspaper, July 28, 2005
ARM POINT WELD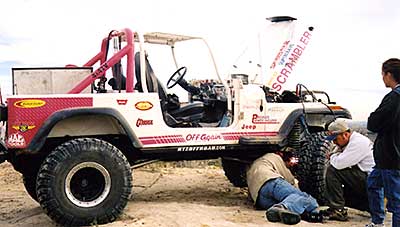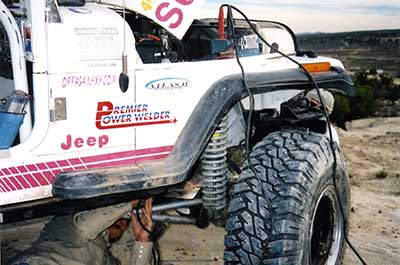 In this womens ARCA Rock Crawl, the Off Again Jeep needed the arm attachment point welded.
WELDING A BRIDGE!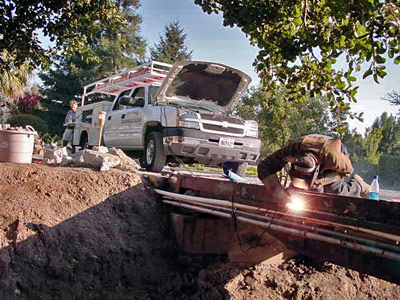 This is one of our customers that uses his welder every day! Here is a pic of him welding a bridge together. The Premier Power Welder can be used in a wide variety of situations!
STEERING BOX FIX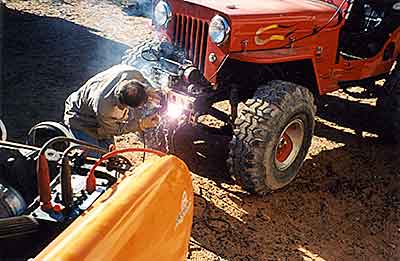 Nancy Bailey's Jeep needed her Steering Box welded.
TIERRA DEL SOL RESCUE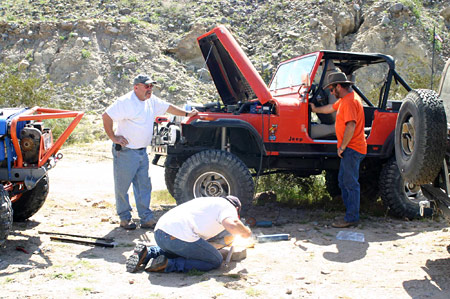 Another one of our customers coming to the rescue of a wheeler in need at the TIERRA DEL SOLE event -- saving the day for this guy!
UNIMOG IN NEED!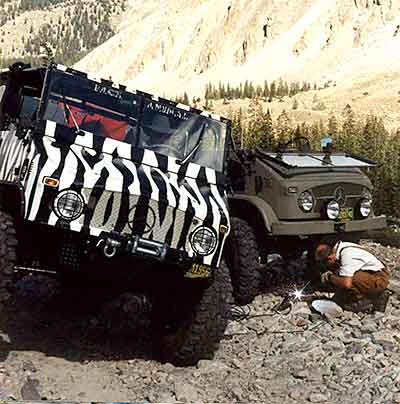 Even Unimogs need a Welder!
ARCA CRAWLER SWEARS BY IT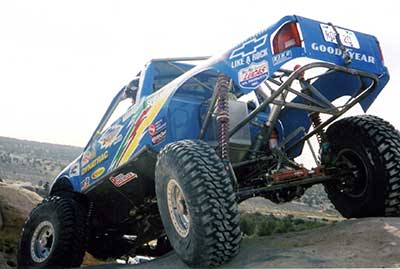 Walker Evans running our sticker at a ARCA event. He recommends the Premier Power Welder under hood welder.
TRAIL FIX - LAS CRUCES, NM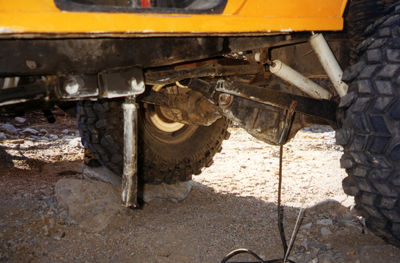 At the 2000 ARCA Rock Crawling event, Pat broke his Radius Arm in Las Cruces, NM.
TRAIL FIX 2 - LAS CRUCES, NM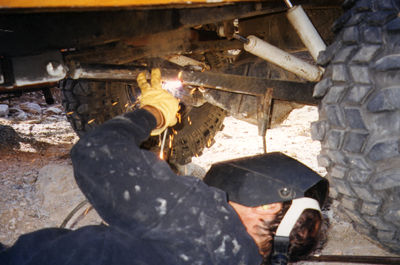 Pat welding his radius arm so he could finish the event.
TRAILER HITCH FIX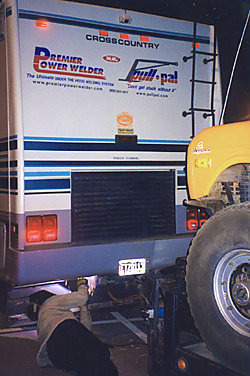 Salt Lake City, UT
On the Way to Vancouver, Canada -- "Island Rock Crawl"
When buying a camper or motorhome, always check the trailer hitch! Ours looked good, but a week later, it ripped off and we almost lost the Bronco and the trailer. We had to weld it back together in a parking lot. Again, Premier Power Welder saved our butts.
TRAIL FIX - DAKOTA CHALLENGE '99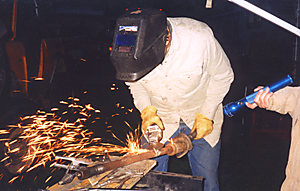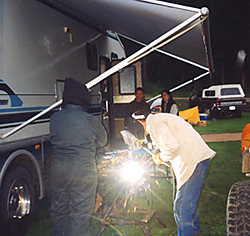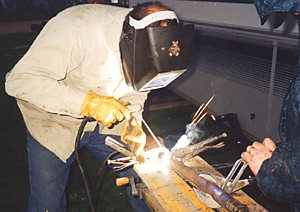 FINAL PRODUCT
Richard broke his axle so he was done for the rest of the Dakota Challenge '99.Pat cut down a Dana 60 for him & welded it so Richard could go out on the trail the next day.
RIM FIX - DAKOTA CHALLENGE '99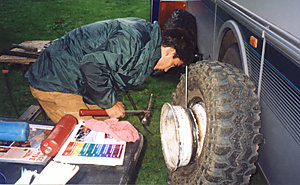 The homemade rim was coming apart at the "Dakota Challenge." Pat had to reweld so they could go back to the trails.
EASTER JEEP SAFARI '99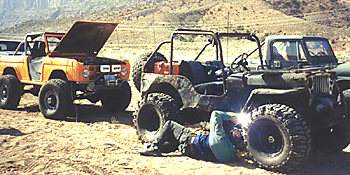 JP Magazine
Pat started welding Rick Pewe's Jeep early that morning. We only had 50 lbs. of weld rod, so we couldn't finish the job. We told him we'd finish it next year.